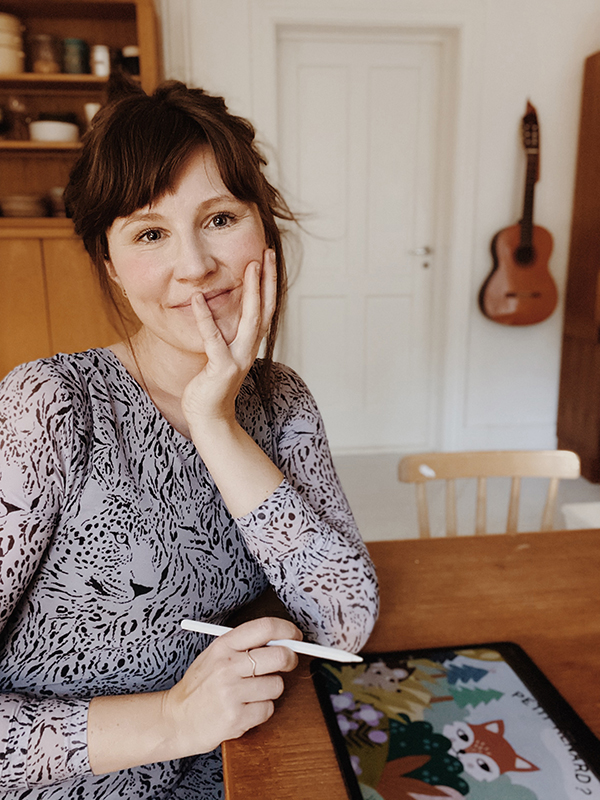 ABOUT
I'm a french-fries-loving and eco-friendly poster maker and freelance illustrator based in Copenhagen, Denmark.
HOW IT ALL BEGAN…
10 years ago when I was still studying Graphic Design I tried taking my printed-at-home illustrations to a design market and it really went well! A few shops started requesting to sell my work and at some point I thought that it might be a good idea to start a business. Slowly more and more shops began to sell my illustrations and I got some freelance illustrations commissions too. The sales grew and more commissions kept coming and before long I was able to quit school and be a full time illustrator. How fantastic! I toured Europe for a few years, showcasing my illustrations on trade shows and at one point you could find my posters and frames in more than 100 shops world wide 👀 At the trade shows I also met wonderful people, some of which have become my long term partners in business.
A SLIGHT SHIFT IN THINGS
So I went from being a independent brand with all that it involves of logistics, sales, material knowledge, shipping agreements and tech-problems 🤯 In the end it was not a lot of fun spending 95 % of my time managing all these tasks, so when we had our first child in 2016 I decided to do it differently and made the shift to being an illustrator only – no more selling products (except the posters on this webshop which is now managed by an al service ware-house😌). It is the best thing I have ever done. But it would not have been possible without the years of touring, selling, opening doors and connecting with all the amazing people I have worked with since.
Today 95 % of my business is drawing for clients / working with partners. I have worked on everything from toys to bedding and to name a few of my long term partners there are Vilac, Auzou and émoi émoi. For some reason most of my partners are French. Perhaps it is my name – I have no connection to France at all, my parents just thought it sounded cool back in the late 80s 😎
INSPIRATION
I often get asked where I get my inspiration and the answer is a bit cliche; I find inspiration all around me! Sometimes the ideas just land in my head out of the blue and other times a scroll through the world wide web gets my ideas flowing.
My illustrative style is quite simple and naïve and you can recognize my illustrations by my soft pastel color palette. I really can't draw naturalistically, what you see it my BEST attempt to draw, so in a way I did not chose my style, it is simply as far as my skills go! In the beginning of my career, the eyes of my characters were almost always closed – a signature that really began because I found it terribly hard to draw just the right kind of eyes! I sort of have figured it out now and am now able to draw open eyes too 🙈
I love that I can call this my job and say a silent thank you (to whoever or whatever is listening) many times a day. Thank YOU for reading. Feel free to reach out if you have any ideas you would like to discuss or if you have any questions for me. ❤︎
If you want to stay updated on what I am doing, the best place to go is Instagram. See you there 🌸